To get a new & trendy look for your kitchen use marble interiors, wooden finishes, black walls, designer pantries & cabinets to luxe up the look.
The new year has arrived with many new trends in different departments. There is new fashion, technology, ideas and so much more.
If you are building your house and thinking about how to decorate your kitchen, then you can follow some of the newest kitchen modeling trends. They not only increase the elegance of your kitchen but also lift your mood whenever you enter it.
So let us look at the most relevant kitchen trends of 2021 that can make your kitchen attractive.
A Luxurious Marble Decor
Although expensive, many homeowners want to have marble flooring and design the kitchen with a marble finish.
The main reason for marbles, especially strongly veined getting popular those days is because these are very durable and can sustain for a long period.
Marbles have seen a steep decrease in popularity but with newer designs and sustainability, they are making a comeback.
Marble flooring and finishing should only be done by highly experienced professionals and use high-quality value for the dollar equipment to get the job done.
A Darker Interior
The whole idea of this design is to turn the kitchen into something dark. The walls, the floors, the cabinet will all have black color.
This might sound strange to some but with proper lighting, this dark-themed kitchen will give off a mysterious and enchanting aura that normal traditional kitchens can never give.
The dark-themed kitchen is getting so popular that many people are also getting their bedrooms and dining halls painted dark. All you will need is quality paint, a good color scheme, and a new interior lighting plan.
Lively Colors
This is the complete opposite of the darker interior design. Here, you put various color combinations based on your choice. Whatever you find pleasing should be a part of the color combination in your kitchen.
The walls and the other items such as cabinets and pantries should make a good contrast based on your color choices. This design depends on your personal preferences and many people are taking this opportunity to show off their creative side.
Handle less Cabinets and Counters
Back in the days, most kitchen components such as counters, cabinets, pantries, cupboards had handles on them and you needed to pull the handle to open them.
But now, it is possible to open and close these components without using a handle and thus, the design of handle less kitchens took over.
With a simple push, the door of these cabinets and cupboards can be swiftly open and push back in to close them. Easy and elegant.
Pantry Style Cupboards
Pantries have been very popular kitchen components and it is hard to imagine an elegant kitchen design without pantries.
Before, the most common thing in the kitchen that stored utensils and other kitchen utility items and foods was a wall full of cupboards. But now with pantries, they can save some space in the kitchen.
Sleek Metallic Design
If you want your kitchen to be glossy and have a higher lifespan, then having a metallic themed kitchen would be your best bet. This does not necessarily mean that all the counters and cabinets will be made of metal.
Instead, you just have to apply a metallic finish over the wooden or ceramic kitchen components.
Have Shiny Sinks with Gold Finishes
With each passing year, kitchens have seen sinks of different shapes, sizes, and designs. To get a unique look from your kitchen sinks, you can have gold finishing on them.
Although this might cost you a hefty amount, it will all be worth it when you see that shiny ecstatic design. Sinks are very crucial and because of their pretty look in a gold finish, working in the sink will also feel pleasing.
Walnut Wooden Cabinets
Walnut woods have a dark and rich shade and give off a warm look in your kitchen.
They are also very sturdy and hardly for getting dents or damage which makes them a reliable choice for high-quality and stylish wooden cabinets or cupboards for their kitchen.
Double Island Design for Certain Kitchens
If your kitchen has a large space or wide enough to build separate counters, then you can use the kitchen island and make a double island kitchen.
Although this depends mainly on available space but has become quite popular in recent days as most kitchens are spacious and the double island is also easy to work with. If you have extra space then try renovating the kitchen for a double island design.
Separate Drawers for Utensils and Appliances
Most people have some boxes or small racks to store kitchen appliances such as spoons, knives, scissors, and so on.
Recently, people have deemed this undesirable as these shelves take up space and bring down the beauty of a well-designed kitchen.
To avoid this, many people have made separate drawers in their cabinets and pantries to store the appliances in an organized way.
Use Kitchen Pendants for Added Vitality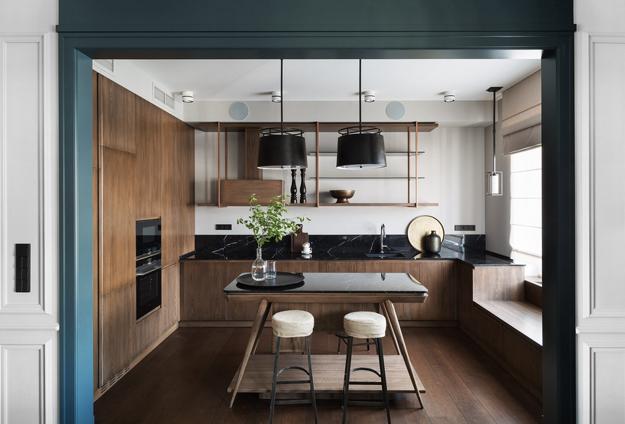 The second most popular kitchen design people look for, right after kitchen island, is kitchens with pendants light hanging from the roofs. Lighting is very crucial while designing your kitchen and these pendants can be very helpful in making the kitchen appear more bright and full of life.
Old School Retro Designs
If you want to stick to the retro design from the past, but also want the cutting edge look of recent days then that is possible too. Many kitchens nowadays are having a retro painted design along with a fresh and more recent look.
This design is slowly becoming popular just like other retro styles that are starting to make a comeback.
Final Thoughts
There are a wide variety of designs for your kitchen that are on the trend right now, as you have seen from the list above. These are only a few but are our favorites. There are many more, and all of them are widely accepted by all. So, which one you choose for your kitchen comes down to your preference and the space available in your kitchen.