Today's farmhouse home designs embrace modern styles and decor for an appealing look to your dining room, living room, bedroom, and other areas of your home. Homeowners with a taste for both ancient and modern home designs can transform their living room with the following farmhouse styling ideas. Most of these styles have similar characteristics, such as incorporating farmhouse decor items and using organic materials and neutral colors.
Open Concept Farmhouse Living Room
Most homeowners like the open-concept farmhouse style, which mainly involves opening up the interior to allow natural light into your space, hence the name. One of the best parts of a modern farmhouse living room is flexibility. It allows you to look into various styles to find out which one works best for you.
The open-concept farmhouse living room style is ideal for an open-floor kitchen plan. It would allow light to flow through the entire space up to your dining area and kitchen. This style mainly involves industrial light fixtures such as downlights, comfortable furnishings, vertical shiplap, and a complete glass-paned wall to allow light to pass through.
Traditional Farmhouse Living Room
Farmhouse living room style is all about creating warm and relaxing comfort. You don't necessarily have to invest heavily in blown-out ceilings and other expensive materials to get the design right. A traditional farmhouse living space design is achieved using simple and cozy items such as scented candles, blankets, and throw pillows.
A rug is also a necessity covering the entire space and bringing it to life, depending on the color you select. It could also have a fireplace and enough ventilation to create an open and airy feeling. The furnishings used should preferably have a dull and neutral color which makes the entire look attractive.
Natural Elements
Do you enjoy your life when exploring nature and the wild? You can bring this feeling right to your living room by adding some organic elements such as live plants. Other ways you can fill your farmhouse living room with more natural elements is by exposing some stone accents and wood beams to your interior.
New Construction Farmhouse Living Room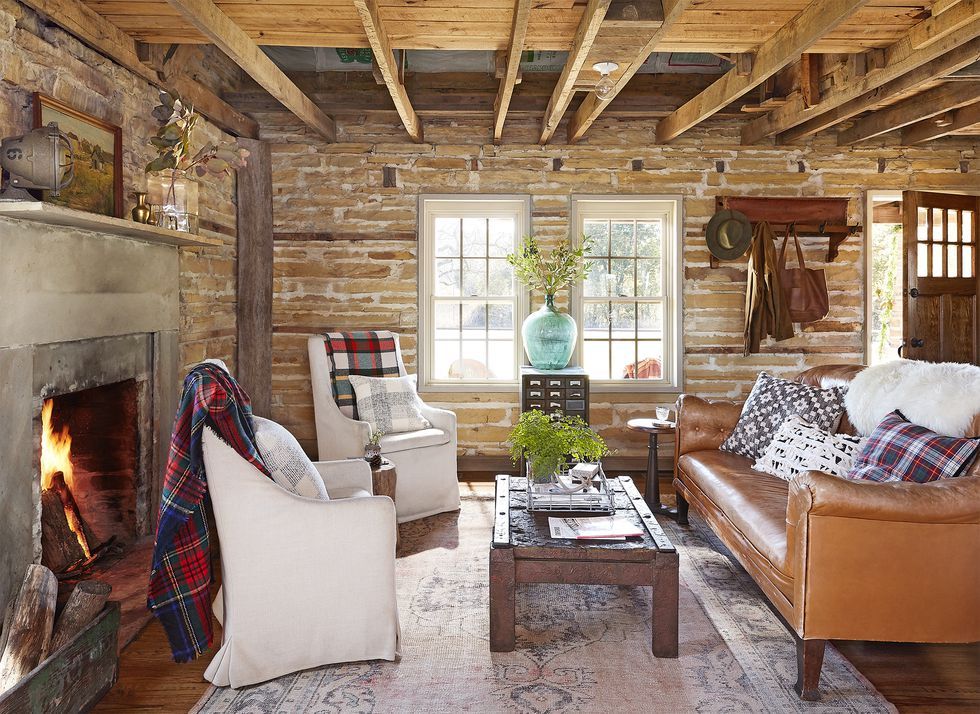 When some people hear the term 'farmhouse living room design,' their first thought is about an old house undergoing renovation. However, a home doesn't always have to be years old to embrace a farmhouse interior design. A newly built home can incorporate traditional farmhouse styling features such as paned windows, a large stone fireplace, and a beamed ceiling. This will bring a classic farmhouse look to a modern home.
Fireplace Decor
A fireplace is a common and ideal way to complement your modern farmhouse living room style. If you already have a real fireplace, arrange the firewood, a container for extra wood, and the tools you will need to light and keep the fire burning. The mantle above is an excellent place to add living room modern farmhouse decor items depending on the size.
You can fix your TV, place some vintage lanterns, or inspirational art. Ensure whatever you choose contributes positively towards the look. Some people also choose to remember their family and friends by displaying their photos on the mantle.
If you don't have a fireplace, you can create a faux fireplace to complete the look. Though it may not have real flames or heat, a faux fireplace creates a mantle for more interior decor.
Industrial Farmhouse Living Room
Architectural objects such as bulb pendants and natural wood in the space are an excellent way to give your modern farmhouse living room an industrial touch. The main way to achieve this style is to add a few unique items to your living room. Your furniture pieces do not necessarily have to rhyme well but seem like they do. The industrial farmhouse living room style is popular among city residents who still honor and value their countryside roots.
Farmhouse home decorating styles have long been a trendy way to achieve an elegant setting with a balance between the classic and the modern. From adding living room modern farmhouse decor in areas such as your fireplace mantle to using neutral colors or having glass-paned walls, there are limitless ways to make improvements to your modern farmhouse living room design.